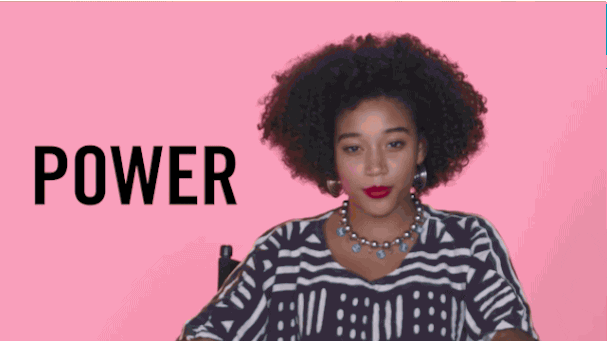 We've passed a quarter of this year. But as you know we've just started getting into the nitty gritty of the Black women's experience so let's get into it. I'm excited about April's national topic which is Sexual Assault Awareness Month. Don't get me wrong, I don't make light of sexual violence but I applaud all the courage Black women who have chosen to speak their truth unapologetically.
On this platform you KNOW I toot the Black Women's Blueprint's statistical finding that says, "60% of Black women will be sexually assaulted by the age of 18." This means more than half of Black women. Let's put this into perspective, if there was 5 Black women in the room, at least 3 of the 5 Black women will have stories about being molested, raped, sexually assaulted, sexually harassed, groped etc. 
As Malcolm X said, "The most disrespected woman in America is Black woman." 
According to Bureau of Justice Statistics, "67% of reported sexual assault victims are under 18 years old, and 34 percent of all victims are younger than 12." Since sexual assault is one of the most underreported crimes, we don't truly know the numbers, stories and faces of victims but it is estimated that for every 1 police report of sexual assault from a White woman 5 go unreported. In terms of Black women, the ratio is 1 to 15. For every 1 police report that is filed about sexual assault, 15 go unreported. That is 3 times the sexual violence of Black women compared to White women. And please don't get it confused. A police report DOES NOT mean a guilty verdict. Most predators don't see the inside of a courtroom. They hardly even get reprimanded or spoke to for the destructive actions.
That's not even the worse outcome, the worst outcome is revictimization. To be assaulted more than once in a lifetime. I, can attest to this. Currently, I have experienced two sexual assaults in my lifetime before 12. I have been sexually harassed and groped as well. I don't like to think of myself as a victim or a bad reoccurring punchline to a sick joke but I am hypervigilant and more aware of the dangers that may lead to an assault than the average woman. From not taking drinks from strange men, to tip toeing around sexually aggressive men, to knowing where all the exits are located in a room, to bringing my own water bottles EVERYWHERE, to not being left in a room with a man alone or with too many men alone (more than 1), to overanalyzing statements/commentary made by men to find a possible underlining sexually suggestive tinge because the last thing I need is to bring my count to 3 before the age of 30.
To give you a better understanding of revictimization read below an expert on this topic, Diane E.H. Russell. In 1986, iconic feminist researcher Diane E.H. Russell created studies around the idea of revictimization. That study found that 63% of the women participating who had been molested before age 14 were assaulted again during adolescence (after 14) and/or early adulthood (before 25). Girl survivors of sexual assault are anywhere from 2 to 11 times more likely to be sexually assaulted as adults. Other studies after Diane's original study have discovered the same conclusion within the last two decades to support Diane's claims. The shocking reality for victims of sexual assault is the constant fight of "my body my choice." Not necessarily in the form of reproductive rights but the right to say no to sexual contact AND our NOs being respected in conjuction with having the final say when it comes to consent.
Do you see why what can be perceived as hyperbolic or paranoia is really self-preservation and precaution? It's definitely not normal, but it's my survival skills of avoiding revictimization by men who view women as objects for the taking, without permission, soil us and discard us almost instantaneously. Then blame us for trauma they've inflicted on us, particularly the way we seek fit to cope with sexual trauma or the after affects that leave long lasting scars on our psyche.
And even with the horrors of being sexually violated at a young age it is these former broken girls who have grown into women that carry the burden of the Black plight. They are the ones excusing the R. Kellys of the world and in their homes as well as marching on the behalf of men who hate their existence like Stephon Clark. Like mules, we have been trained to give selflessly until nothing is left of us. These vultures suck us dry like a juice pouch until the only thing left is our last breath of air. When will the Rites of Passage into Black Womanhood stop being linked to sexual abuse? When will we be able to raise carefree girls who get to choose when, where and to whom they give their bodies to? When will we hold the men accountable for breaking their instinct to protect the community that has turned into their instinct to cannibalize the community? The next generation of Black girls need an answer. 
On this platform we speak about sexual assault, mental health and healing. If at any other time you felt isolated and thought you couldn't speak about your truth know that here is that platform to Speak Up. Speak Out. Speak Truth. If you need to speak to someone who knows sexual violence and mental health disorders contact me for a private one on one conversation with me. I answer questions, give advise and provide coaching. Want to get started now? Click the picture above or HERE. 
If You Missed Last Week's Blog: Women's History Month: Vie Ciné. Click HERE to read.
Follow: vieis_me Instagram page for Instagram Livestreams on Tuesdays at 8pm eastern where we discuss whatever you want to. No subject is off topic from sexual trauma, mental health, celebrities, politics etc. Catch the playback on Facebook Page Author Vie Ciné.
Miss the last livestream? Click HERE to watch the replay.
Follow: MEMOIRSOFAFORGOTTENCHILD Instagram page for exclusive reads from and updates for MEMOIRS OF A FORGOTTEN CHILD ebook. 
I'll leave you with a personal quote of mine, "It's imperative that these acts of wrongdoings do not continue unchecked for it is our children who pay the highest cost." - Vie Ciné 
As Iyanla Vanzant says, "I am not my sister's keep, I am my sister." 
New Subscribers will get a FREE ebook titled 10 Tips To Detect A Pedophile. It's a MUST READ for parents and caregivers! 
Purchase MEMOIRS OF A FORGOTTEN CHILD now on Amazon Kindle: HERE or in the STORE page. 
Be Blessed. Be Enlightened. Be Loved. ✌🏿
Please reload